Leslie J. Dulin is an abstract painter living and working in the Chattanooga TN area. Contact Leslie through the Contact page of this website.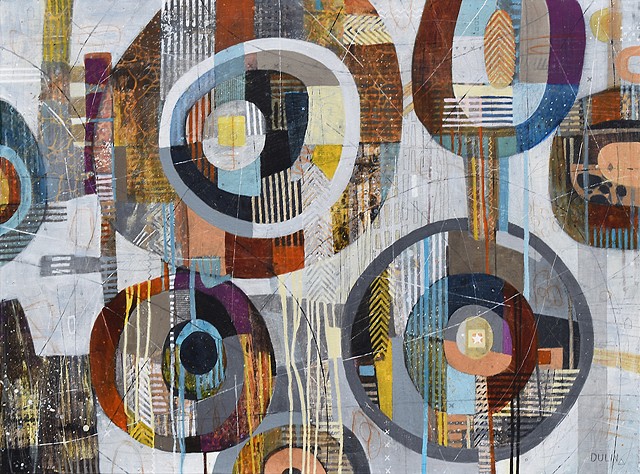 I create abstract paintings in acrylics and mixed media that demonstrate my interest in the relationship of the figure (foreground) to the ground (background). My work is all about color, shape and design. I prefer not to explain to an observer what to see in my art but to trust the viewer to discover their own unique and possibly comical interpretation.
I start in one of two ways. Sometimes I start by making a collage using patterned papers that I design and print myself. Other paintings are begun by using unusual tools from the kitchen or hardware store, as well as traditional painting knives and brushes. I spread one or more colors of acrylic paint sometimes allowing them to blend slightly within a shape. I continue adding shapes until they create an exciting harmonious pattern across the canvas. Then I cut into the shapes, either collaged or painted, with a background color to reveal one or more large shapes on the background. I pick out appealing areas to save, and cover areas that do not interest me. I repeat this process several times, leaving artifacts of previous passages showing through the upper layers of color or the background. A painting is considered to be finished when I have found a composition that appears effortless, although it may actually have taken me days, weeks or even months to complete.
There is usually no defined subject matter, although the work often does spark emotional responses. Creating beauty through a combination of rigorous analysis and playful serendipity carries messages about strength and will, as well as about knowing when to let go. These opposites establish tension in the work and entice the viewer to journey through the composition, delighting in patterns, colors and shapes that lead them back to where they began. The paintings are lively and whimsical, seriously planned to entertain and amuse.